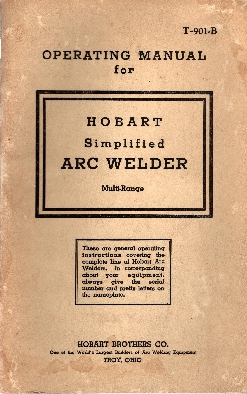 Author Name N/A
Title Operating Manual for Hobart Simplified Arc Welder
Binding Staple Bound
Book Condition Good-.
Type Staple Bound
Publisher Hobart Brothers Co, 1970-01-01
Seller ID 325057
*Undated circa 1960's or 1970's* GOOD-. Tan staple bound wraps, approx. 8.5'' x 5.5'', 40pp., bagged for protection with a stiff backing board, small chips to stapled spine, small chips, rub wear and small light brown and gray stains to covers, light pencil writing to top half of back cover, some barely visible light brown stains to top corner of some inside pages towards the back.
Price = 18.95 USD