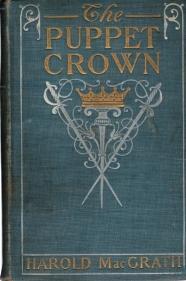 Author Name MacGrath, Harold
Title The puppet crown
Binding Hardcover
Book Condition Good-.
Type Hardcover
Publisher The Bowen-Merrill Company 1901-01-01
Seller ID 324687
GOOD-. Light blue cloth bound boards, approx. 8.5'' x 5'' x 1.5'', 436pp., frontispiece with wax paper protector, slight spine lean/roll, faded spine, creases to upper spine, bumps to spine edges and corners, small white stains to front cover, light brown and gray dirt stains to covers and spine, few light brown stains to page edges (mostly bottom), pencil writing to inside front cover and fly page.
Price = 24.95 USD