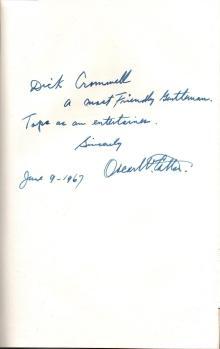 Author Name Cotton, Oscar W.
Title THE GOOD OLD DAYS
Book Condition Good.
Jacket Condition /Good.
Type Hardcover
Publisher Exposition Press 1962 1st 1962-01-01
Inscription Signed
Seller ID 324565
*AUTOGRAPHED/SIGNED* by author Oscar W. Cotton with personalized inscription and note on blank page after fly page and Oscar Cotton Night at Cuyamaca Club menu.GOOD/GOOD. Orange and peach photo illustrated jacket, dust jacket in archival plastic protector, approx. 9.5 x 6.5'', small chips/creases to spine edges and corners of jacket, small chips to front top of jacket near spine hinge, light rub wear to jacket, small red stains to few bottom page edges, 2 large creases to inside front jacket flap.
Price = 8.95 USD