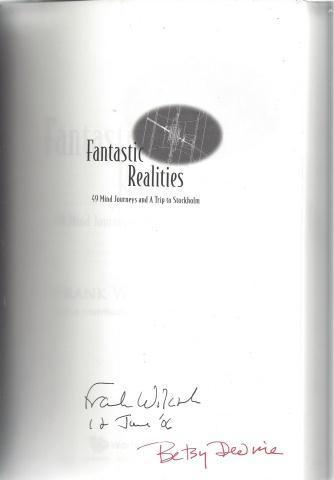 Author Name Frank Wilczek
Title FANTASTIC REALITIES: 49 MIND JOURNEYS AND A TRIP TO STOCKHOLM
Binding Paperback
Book Condition Good+.
Type Paperback
Publisher World Scientific Publishing Company 2006-03-13
ISBN Number 9812566554 / 9789812566553
Inscription Signed
Seller ID 324032
*AUTOGRAPHED/SIGNED* by authors Frank Wilczek and Betsy Devine with date on the fly page/half title page. GOOD+. Black spine with black and blue photo illustrated front cover, approx. 9.5'' x 6.5'', 522pp., small chips/creases to spine edges, edges and corners, light brown stain to upper page edges, light gray dirt stains to upper and lower page edges.
Price = 45.00 USD