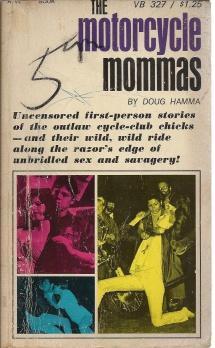 Author Name Doug Hamma
Title The Motorcycle Mommas
Binding Paperback
Book Condition Fair.
Type Paperback
Publisher Venice Publishing Corp. 1967-01-01
Seller ID 323619
Fair. White photo illustrated paperback. Approx. 7" x 4". 192pp. Pen markings to front/back /fly page. Shelf wear. A 5 written on cover in marker. Creases to spine. Pen markings on page 78/79. Foxing to pages. bagged for protection.
Price = 45.00 USD